Amazon A+ Page
The Schick Hydro 5 Sense razor system's Amazon A+ page was designed leveraging the key visual to display each of the three varieties — Hydrate, Energize, and Sensitive.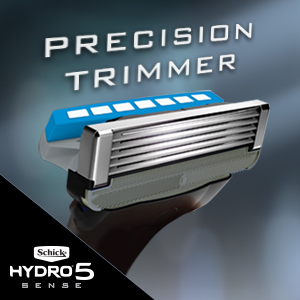 Innovative Shock Absorb Technology features a built-in mechanism that responds to pressure and contours around curves to deliver a customized shave every time.
Auto-Adjusts To Your Face
Schick Hydro 5 Sense 'senses' when pressure is exerted on skin during shaving, backing off if you're applying too much pressure or adding back when you need it. Optional lock button lets you control the action.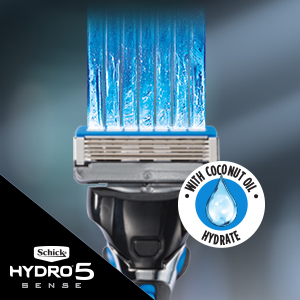 Upgraded gel pools provide instant lubricating protection. Available in three custom formulas: Hydrate Gel with Coconut Oil, Comfort Gel with Herbal Extracts and Energize Gel with Menthol.
Ultra Glide Blades with Skin Guards
Our 5 Ultra Glide Blades feature breakthrough skin guards at the top of each blade, doubling the number of points of contact between the blades and skin between blades—all to help control the skin flow to reduce irritation.
Uniquely designed Hydrate Gel, with coconut oil, hydrates throughout each shave.
Uniquely designed Energize Gel, with Menthol, wakes-up tired looking skin.
Uniquely designed, sensitive Comfort Gel, with herbal extracts, comfort skin.